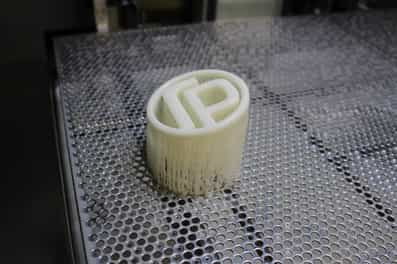 The most crucial step in bringing an additive operation in house is determining the most appropriate technology for your application. With applications including form and function prototyping, investment casting, pattern and mold making, wind tunnel testing, micro-fluidics, and more, stereolithography is perhaps the most versatile technology in the additive manufacturing (AM) industry. While it was the first additive technology created, stereolithography has stood the test of time, and we have drastic improvements in scanning technology, material development, and equipment design to thank for this.
Companies that specialize in 3-D printing can offer expertise in establishing whether a customer's core applications are appropriate for stereolithography. They can be there through each step: equipment and material selection, throughput analysis, lab design and management, installation, ongoing support and service, and education. AM experts make certain that customers are confident that the solution is the correct match for their intended use.
Due to the technology's versatility, it is common for customers to find additional uses for the technology outside of the justification for purchase. In many instances, the overlap in machine utilization creates a need for additional capacity.
Examples of Alternative Uses for Stereolithography
Jigs and fixtures are staple tools of any manufacturing floor, providing aid, guidance, and security throughout assembly. Often, the designs are custom, making them costly and time consuming to produce, especially with traditional manufacturing methods. With the ability to print complex geometries quickly and accurately, stereolithography offers an ideal alternative for these crucial fixtures in the manufacturing process.
Go/no-go gauges are another manufacturing aid that adds cost and time to product assembly when utilizing traditional manufacturing methods. Given the accuracy of stereolithography (.05mm tolerance), it is more than capable of printing plug, threaded ring, and handle gauges. The ability to print these parts quickly offers the customer fast turnaround by providing a vital quality control tool.
Specifically, the Raplas PR 700 & 450 printers, each with a dynamic focusing optic and ability to print in a variety of layer thicknesses, offer perfect solutions for replacing traditional methods of producing manufacturing aids. The adaptation of this technology in these processes results in substantial operating efficiencies.
Injection Molding and Tooling
Tooling remains a crucial aspect of the manufacturing process. This application often alleviates the pain points of the expensive and time-consuming process of traditional tooling and injection molding methodology. The strength and high HDT of materials in products such as DSM PerFORM allow engineers to rapidly create molds that are capable of producing real injection-molded parts that can reduce cost and time in the product development cycle.
In many cases, this can reduce the amount of time it may otherwise take to receive a traditionally manufactured mold by 8 to 10 weeks. This provides confirmation of proof of concept quickly, allowing users to complete projects timely while reducing costs. Depending on current methodology, a cost justification for purchasing equipment can be reached very quickly. An expert 3-D printing partner can assist in providing analysis to prove this out.
Thermoforming
Similar to injection molding and the production of jigs and fixtures, Thermoforming typically involves using costly tooling through traditional mold making, utilizing metal or wood to form the fixed shape of a product. These processes can take weeks to months and are often very expensive. Depending on the size of a print, users who capitalize on printing in stereolithography can bring a concept to a completed part, ready to be thermoformed in a matter of days. This reduction in project completion time easily translates to substantial cost savings.
A Complete Solution
3D printing is rapidly evolving from generic prototyping into a production technology. Many are calling it a bridge-manufacturing process, or a way of making moderate quantities of parts into final products. Regardless of the products manufacturers are ultimately producing, creating efficiencies within the process remains the same: decreasing the speed of concept to production, bringing as many aspects of the process as possible in house, and lowering costs. Stereolithography is one of the most versatile and reliable ways to bring these capabilities to fruition.
For more information on ways to make your 3D printing project successful, subscribe to our blog.
Topics: Stereolithography, Applications