Guests welcomed to unique location to meet the latest 3D-printing technology
NEW SHARON, Iowa – (August 15, 2017) – On August 24, RP Sales America will open the doors of their 3D-printing lab to visitors curious about two new 3D-printing lines that are shaking up the industry: Rize and Desktop Metal. These two lines join UnionTech stereolithography equipment to round out RP Sales' product offering.
"It's getting to the point where everyone in every industry, from one-man operations to large manufacturers, is looking for a way 3D printing can improve or even revolutionize their business model," said Dan Terpstra, President of RP Sales. "We want to give people the chance to see the most innovative game-changers in the industry today—and talk to the experts one on one about how the equipment can be used in their business."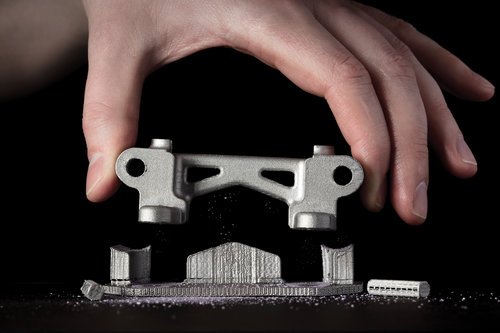 The event will feature presentations by Tim Ruffner, Commercial Sales Channel Manager - Midwest Region of Desktop Metal and Eugene Giller, Founder and President of Rize. Attendees will also have the opportunity to examine the Desktop Metal Studio System™ and the Rize™ One 3D printer up close, as well as parts built on both machines. Guests are welcome to attend just the sessions in the morning, or stay for the full day for more opportunities to consult with the experts on how the equipment can fit into their operation. The complete line of UnionTech stereolithography equipment will also be on display at the facility. Breakfast and lunch are included. Visit www.RPSales.us/open-house to see the complete schedule and register for the event.
DESKTOP METAL: Desktop Metal has been making waves in the industry with its metal 3D-printing solutions. For the first time, manufacturers and engineers have a faster, affordable option for 3D metal-printed parts. The company is taking reservations now for its Studio System™ and Production System™. "We are finding that the Studio System is very exciting to entrepreneurially minded people who have been looking for a way to produce smaller runs of metal printed parts cheaply," said Jeremy Vos, Director of Sales at RP Sales. "Sometimes they haven't even thought about metal 3D printing as a potential solution, but Desktop Metal is making it possible to get this technology in the hands of more people."
RIZE: With the Rize One 3D printer, users for the first time have a machine that is easy and office-safe, while also producing great parts. No toxic particle emissions, mess or harmful materials are used or generated throughout the process. This makes it perfect for everything from hospitals or schools to the manufacturing engineering lab. After printing, virtually no post-processing is required, saving users up to $500K per year in staffing costs alone and up to 100% in total processing time.
About RP Sales America
RP Sales America is the exclusive U.S. distributor for the UnionTech™ line of stereolithography printers, as well as authorized re-sellers for Rize and Desktop Metal equipment. Learn more at www.rpsales.us. For more information about the open house, contact info@rpsales.us or 641-651-0266.
Topics: News, Rize, Desktop Metal