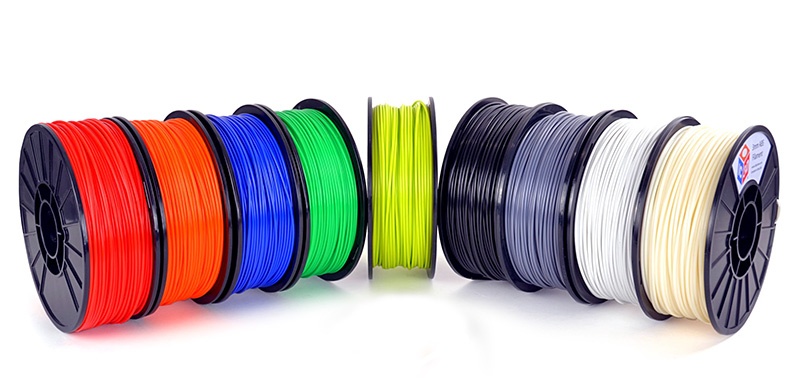 RP America, a 3D printer support, service, and sales company based in New Sharon, Iowa, now offers several lines of FDM/FFF 3D printer filaments for use on common desktop 3D printers. This product line was added to RP America's offering due to customer demand for a way to easily purchase 3D printer filament for home and office use from a local company.
Vermeer Corporation now orders filament for its 3D printing lab from RP America. Nate Gay, Additive Engineering Technician at Vermeer, said, "I prefer to order from RP America because they are a local company and typically have what I need in stock, or can order it quickly. They also have experts available to talk about the best material for my projects, and keep me up to date on the latest in new materials."
3D printer filament brands carried by RP America include IC3D, NinjaTek, and taulman3D. They can be used in a wide range of FDM/FFF printers including Lulzbot, Makerbot, Ultimaker, Prusa, Flashforge, Wanhao, Monoprice, XYZ da Vinci, Fusion3, Airwolf, and Delta-style 3D printers. RP America currently offers shipping of consumables across the United States and Canada. Visit www.rpamerica.us/3d-printer-filament for more information.
# # #
About RP America
RP America is the comprehensive source for 3D-printing needs—from equipment sales, to service and support, to information and advice, to financing. Founded on traditional Midwestern values of hard work, integrity, and strong relationships, our customers trust us to provide them with the right additive manufacturing solution for their business. RP America represents product lines including UnionTech stereolithography equipment, Desktop Metal, Rize 3D printers, Somos materials, and IC3D, NinjaTek, and taulman 3D filament.
Contact
Hannah Crawford
Marketing Manager
hannah@rpamerica.us
641.651.0266
Topics: News