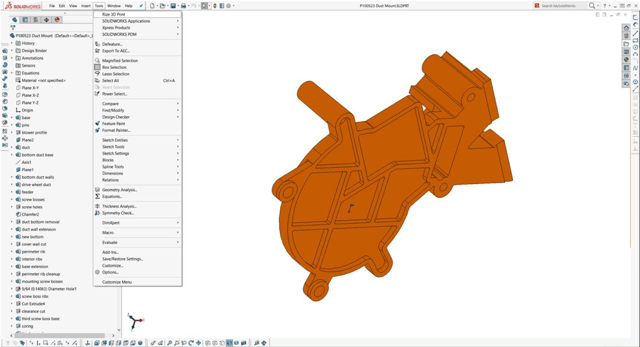 Rize Inc., a Boston, USA-based, next-generation additive manufacturing company, announced that it has deepened its partnership with Dassault Systèmes' SOLIDWORKS brand and made Rize™ One 3D printers inclusive in the SOLIDWORKS design experience with a new Rize add-in.
Rize One, the world's first hybrid printer, fully designed in SOLIDWORKS, is gaining traction within the SOLIDWORKS community with customers like ConMed and ThermoFab, that are using it for diverse end-use applications like custom tooling, producing molds and custom and replacement parts.
The tighter technical integration between Rize and SOLIDWORKS enables users to simply select Rize 3D Print from the SOLIDWORKS Tools menu. The Rize add-in automatically transfers files from SOLIDWORKS to the Rize slicing software without the need to export and import files. Users can download the complimentary add-in from the Rize Website.*
In addition to Rize recently achieving SOLIDWORKS Solution Partner status, functional, isotropic-strength gear shifter parts designed in SOLIDWORKS and produced on a Rize One 3D printer will be featured in the SOLIDWORKS Product Showcase this week at SOLIDWORKS World 2018.
"We are excited that Rize has developed an add-in that will make it faster and easier for SOLIDWORKS users to use additive manufacturing," said Gian Paolo Bassi, CEO, SOLIDWORKS, Dassault Systèmes. "I am also delighted that the Rize One 3D printer has been developed in SOLIDWORKS. We look forward to growing our partnership with Rize."
"Our focus is to drive additive at scale and bring the 3D printing process closer to end users. The Rize add-in is a step in that direction and demonstrates our commitment to SOLIDWORKS and their tremendous ecosystem of innovators. We are proud to be a part of this ecosystem," said Andy Kalambi, President and CEO of Rize. "We will continue to work closely with SOLIDWORKS to expand the usage of additive manufacturing."
Rize will demonstrate the Rize One 3D printer and SOLIDWORKS integration at SOLIDWORKS World this week in booth #217 at the Los Angeles Convention Center in Los Angeles, CA USA.
*Works with SOLIDWORKS version 2018 and later.
---
RP America is an authorized distributor of Rize 3D printers. Interested in Rize? Want to learn how Rize One 3D printer technology makes additive manufacturing more sustainable and inclusive? Join us Feb. 28 for a free webinar.