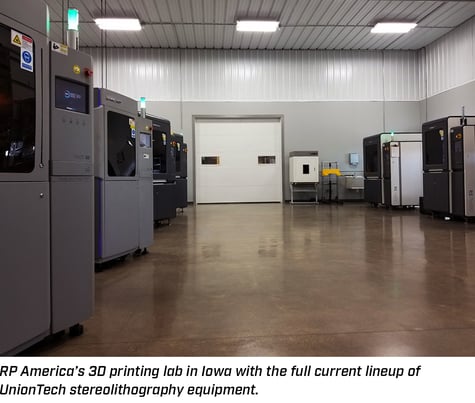 Since UnionTech stereolithography equipment was introduced to the North American market in 2016, RP America, an additive manufacturing support, service and equipment provider, has been instrumental in the testing of the equipment in the United States and collaborating with Union Tech Inc on refinements beneficial to the U.S. market. RP America's 3D printing lab, surrounded by Iowa cornfields, is focused on proving out applications for stereolithography and bringing this knowledge to users who it can benefit.
This year, UnionTech and RP America have big plans for continuing to grow this collaboration. Projects in the pipeline include testing the right combination of equipment, materials and software for applications and techniques such as investment casting, tooling, lightweighting and microfluidics.
The RP America lab typically features anywhere from four to six machines from the UnionTech lineup, fully set up for printing, testing and development. The equipment ranges in size from the PILOT 250, with a 10 x 10" platform, to the RSPro 800, with a 32.5 x 32.5" platform. This enables the company to print customer benchmarks using a wide range of platform sizes and materials, as well as welcome customers to the facility for a hands-on demonstration of the machine and software options.
RP America has hosted visitors from across North America for one-on-one tours and large group open houses. Recently, two visitors from a large aerospace company braved the Iowa winter weather to come see the UnionTech equipment in person. They provided their own sample files, and were able to walk through the process of setting up and running a build on the equipment. "In my experience, an in-person visit to our lab really helps people understand how stereolithography can integrate into their operation and open up new applications," said Dan Terpstra, RP America president.
Critical to the success of this partnership has been the open-source design of the UnionTech equipment, which has enabled a close collaboration with DSM Additive Manufacturing. DSM and RP America have worked together to develop build styles and material parameters for the DSM Somos® line of stereolithography materials on the UnionTech machines. The wide range of properties offered by Somos® materials enables RP America to investigate a variety of applications, from Taurus for high-temperature applications, to NeXt for high impact resistance and durability, to PerFORM for tooling, to Element for investment casting. Because UnionTech equipment is open platform, users can run Somos® materials, or any 355 nm photopolymer material.
A recent project strategically combined equipment, materials and software to demonstrate the capabilities of stereolithography technology. Using Somos® WaterClear 10122, the operator at RP America built two architectural models on the UnionTech PILOT 450. One was built solid, and the second was hollowed with an internal lattice structure created with Materialise Magics software. The solid model was twice as heavy as the other, proving that users can save significantly on material costs while still maintaining structural integrity for models, displays and art pieces.
Coming up in the next two months, RP America will be conducting testing on the equipment using Somos® PerFORM, a ceramic-filled material that is extremely heat resistant. Working with customers, RP America will build and test tooling for injection molding to help users understand how to best employ UnionTech equipment for this application. "Our goal is to use the knowledge we have built up surrounding the UnionTech equipment, materials and software to help our customers get the most out of their additive manufacturing equipment," said Terpstra.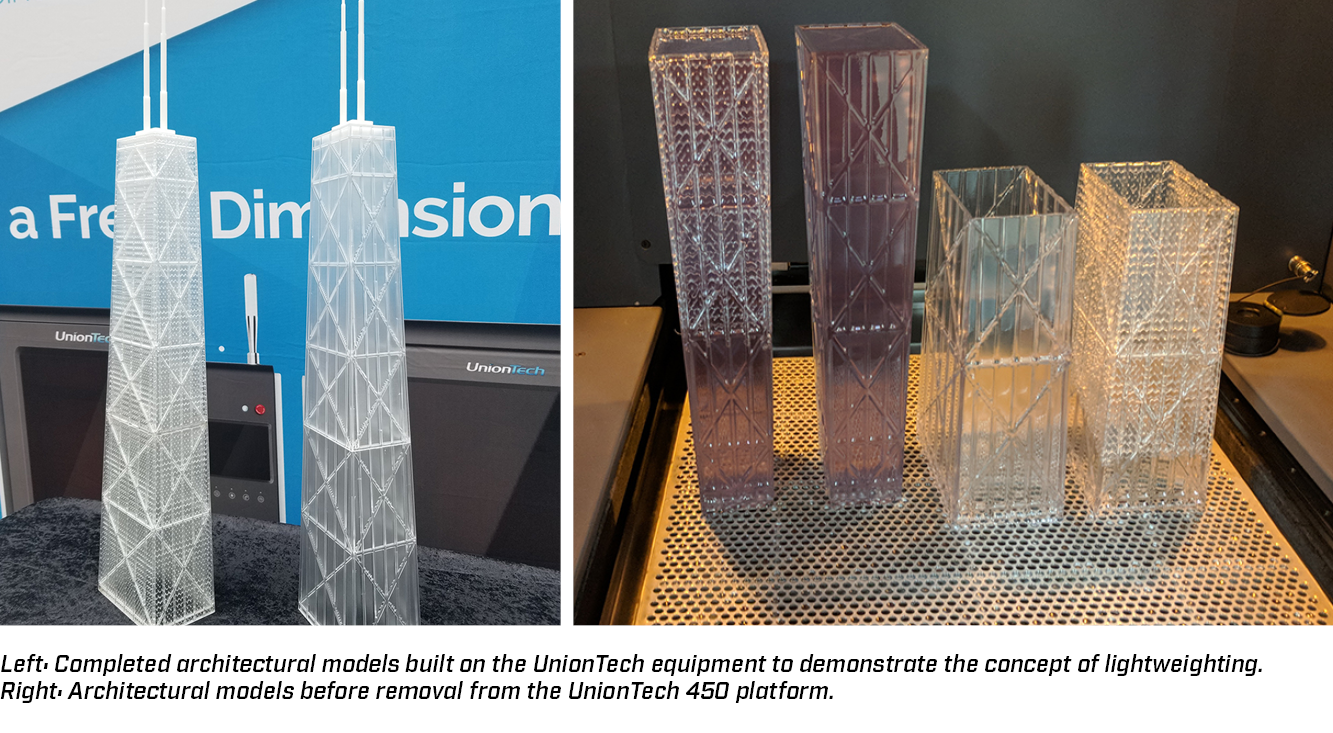 RP America and UnionTech will be at the Rapid + TCT expo on April 24-26 in booth 1710 or DSM Additive Manufacturing booth 1410. Visitors can see the UnionTech equipment and examples of parts printed for investment casting, tooling, prototyping and more.


###
About RP America
RP America has been providing service and support for the additive manufacturing industry across the U.S. since 2011. The company provides a well-rounded lineup of 3D printers to suit any need, including the UnionTech™ line of stereolithography printers, the Rize™ One and Desktop Metal. RP America is also an official distributor of Somos® stereolithography materials. Learn more at www.rpamerica.us. For more information or a demonstration of the capabilities of any of RP America's 3D printers or materials, contact Marketing Manager Hannah Crawford using the information below or visit www.rpamerica.us.
Contact:
RP America, Inc.
Hannah Crawford, Marketing Manager
641-651-0266
hannah@rpamerica.us
About UnionTech
For nearly 20 years, UnionTech stereolithography (SL) 3D printing equipment has been developed and manufactured in an environment of intense regional competition. Our equipment is robustly constructed for low cost of ownership, from the initial purchase onward while producing the highest quality parts. Explore the fresh dimension in SL 3D printing that UnionTech makes available in a full line of commercial and production scale machines. www.uniontech3d.com