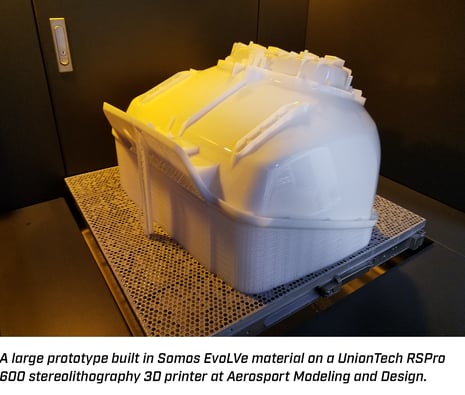 We often talk about the "open platform" advantage of the UnionTech stereolithography 3D printing equipment, but how does an open platform for material choice really help the average user? Simply put, it offers freedom—UnionTech equipment can run any 355 nm curable material that is available on the market today, and any that will be developed in the future, regardless of manufacturer. This means users can be flexible and adapt to their specific market as new materials and applications are developed. Opening up machines to material choice also helps keep prices reasonable and spurs innovation.
Current UnionTech users are already finding this to be the case. PADT, Inc., in the business of providing simulation, product development, and 3D printing products and services, has to produce high-quality parts daily for their customers across the United States. In November 2017, they added a UnionTech 450 stereolithography machine to their 3D-printing equipment line-up in order to add the capacity to print larger parts on the machine's 17.7 x 17.7 x 15.75" platform, as well as printing multiple smaller parts in less time than their current equipment could accomplish.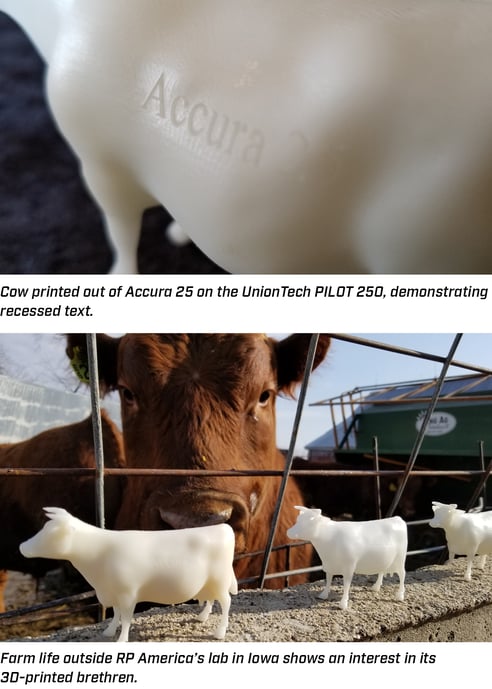 Having now used the machine for several months, they are seeing great reactions from their customers in response to the equipment's open platform for material choice and the quality of the parts: "More customers are switching to Somos® EvoLVe. One of our top industrial design customers, that we've been working with for almost 18 years, was amazed by the parts in both function and finish," said Brad Palumbo, Sr Manufacturing Engineer.
At our 3D printing lab in New Sharon, Iowa, we have done extensive testing with Somos® stereolithography (SL) materials on our lineup of UnionTech equipment. We've built parts in everything from the clear Somos WaterShed XC 11122, to the thermoplastic-like NeXt, to the grey Taurus, a material with a heat tolerance up to 194℉. Now we're proving out the open platform philosophy by running parts in Accura 25, a polypropylene-like SL material from 3D Systems. The parts we've produced have demonstrated the same smooth sidewalls and accuracy that UnionTech equipment is capable of producing.
What's next for SL materials? We've already talked to a manufacturer that is currently developing flexible materials. With an open platform, you won't be left behind during the next big advancement in material science.
---
Want to learn more about UnionTech stereolithography 3D printing equipment? Schedule a consultation today. RP America distributes and services UnionTech equipment throughout North America.
Topics: UnionTech