Merck Commemorates Significant Contributions to Disease Prevention
When Jeryl Lynn Hilleman was six years old, she fell sick with a disease that was common for children in the 1960s and before—the mumps. What wasn't typical about this case was Jeryl Lynn's father, Dr. Maurice Hilleman.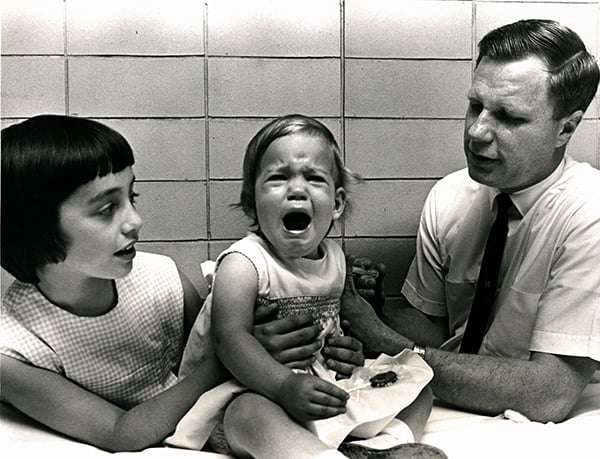 Jeryl Lynn (left) watches as her sister, Kirsten Jeanne Hilleman, receives the mumps vaccination from Dr. Robert E. Weibel, 1968. Merck Archival Services, 2017.
Dr. Hilleman was working for Merck at the time to develop a vaccine for the very disease that was now afflicting his daughter. Putting aside his fatherly concern for a brief moment, he swabbed Jeryl Lynn's throat, placed the sample in a metal canister, and went on to use the mumps "stock seed" to develop a vaccine that gained FDA approval in 1967. Jeryl Lynn eventually recovered on her own, but her little sister, Kristen Jeanne, was one of the first to receive the mumps vaccine. Since then, widespread mumps vaccination has resulted in a more than 90 percent reduction in the rate of the disease.

For over 50 years, the original canister used by Dr. Hilleman to carry the mumps stock seed continued to function and help Merck manufacture the vaccine. Due to the age of the canister and advancements with technology, the canister was eventually retired and a team of Merck scientists transferred the stock seed to a state-of-the-art canister with a sanitary fitting system. In honor of Dr. Hilleman's ground-breaking contributions to disease prevention, which are credited for saving more children's lives in the 20th century than any other scientist's, Merck donated the original canister to the Smithsonian.

The donation was a worthy contribution to the preservation of US history, but Merck also wanted a replica of the original canister for their own museum. They reached out to RP America, located in New Sharon, Iowa, who applied their knowledge of 3D printing technology to the project. Using a reverse-engineered CAD model created by the Merck 3D Technologies team, RP America printed a replica of the canister on their UnionTech RSPro 800. The UnionTech machine was perfect for the project, because it uses stereolithography technology, a type of additive manufacturing (another name for 3D printing) that is capable of producing extremely fine features and smooth sidewalls. The canister was then sent to another company, RePliForm, to be metal-coated with a thin layer of nickel, mimicking the finish of the original. The replica now sits in the Merck museum alongside examples of other contributions to health care the company has made over its 125-year history.
| | | |
| --- | --- | --- |
| | | |
| The original canister. | The canister after being built on the UnionTech RSPro 800. | The pieces were metal-coated for display at the Merck Museum. |
Download this story to view more photos of the project.
You can read more about Merck and its history at www.merck.com/about/our-history.
Topics: UnionTech, Case Study